Hayakawa Group

GLOBAL PIONEER

Our Confidence as a World-leading Industry Pioneer
Hayakawa Group

VARIOUS PRODUCTS

From Automobiles and Household Appliances to Medical Devices and more,
the Industry Potential for Our Wire Harnesses is Infinite
Hayakawa Group

STRONG PASSION

Our Dedication to Providing Solutions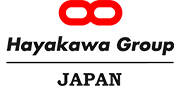 beyond infinity
About Hayakawa Group
Based on our eternal slogan stating, "A Life Defined by Quality, A Spirit Defined by Good Products,"we regard monozukuri (design and manufacturing) as the core of our corporate philosophy that should never be forgotten, and believe that our social corporate value arises from our endless pursuit of monozukuri.
At Hayakawa Group, we will continue to build on past successes and work tirelessly to ensure our customers ongoing satisfaction.
Hayakawa Group in Numbers
IN NUMBERS
What kind of company is Hayakawa Group? Who are its employees? Here is a quick,
easy-to-understand overview of our company in numbers.