Corporate Philosophy
We recognize the importance of carrying out our duties and responsibilities as corporate citizens and strive to be of service to all people everywhere. To achieve this, we focus on cultivating those around us and work to be a corporation that supports quality, customer satisfaction, and the environment through our dedicated efforts to pursuing and perfecting monozukuri-inspired design and manufacturing.
Company Motto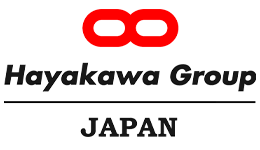 TOMORROW
Working Together to Create Future Happiness for All,
with Originality, Zeal, and Sincerity.
President's Message
Building a Global Company to Enrich Lives and Develop the World
Since our founding in 1964, Hayakawa Group has witnessed over half a century of change, while remaining dedicated to monozukuri design and manufacturing based on the needs of each generation. Following our entrance into the American market in 1985, we have expanded into 11 countries worldwide and, today, enjoy the patronage of clients across the globe. Our success is due entirely to the support and guidance of our customers, for which we are deeply grateful.
Committed to our eternal slogan, "A Life Defined by Quality, A Spirit Defined by Excellent Products," we focus on the undeniable importance of dedicated product design and production as the core of our corporate philosophy. We believe that our social corporate value arises from the endless pursuit of monozukuri design and manufacturing, and place our customers at the center of this process. Hayakawa Group focuses on cultivating staff who can work anywhere globally and stands committed to becoming a leading company both in Japan and the world. Motivated by the dream of one day making our own in-house product lines, we continue to challenge ourselves each day in all that we do.
The three transformative technologies of AI, IoT, and blockchain are redefining our world, ushering in a period of innovation and change that is global in scale. Surely, new business models will arise as a result. To ensure our customers' continued satisfaction, Hayakawa Group promises to always embrace changes such as these and to welcome new challenges, as we adapt to the trends and transformations of each generation.